Actual
Natrelle
INSPIRA® patient.
Individual results may vary.
When is it TIME to ask about having a breast augmentation?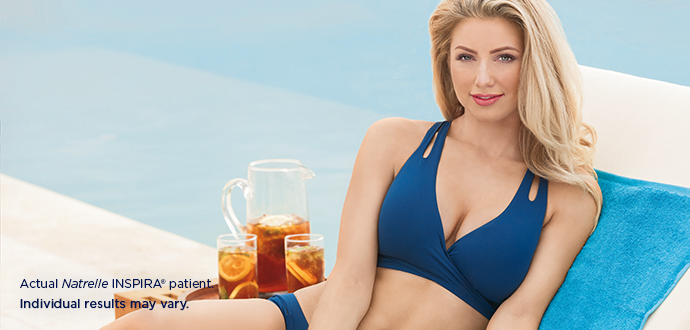 You're a woman who's looking for a
change
.
Perhaps you weren't born with the breast shape or size you wanted, or factors like time, weight loss, or pregnancy caused other changes.
You're a woman whose breasts have changed
after having children
.
If your breasts have lost volume after childbirth, you're not alone! Breast implants can give you a fuller look. If your breasts are sagging, your surgeon may recommend a lift in addition to augmentation.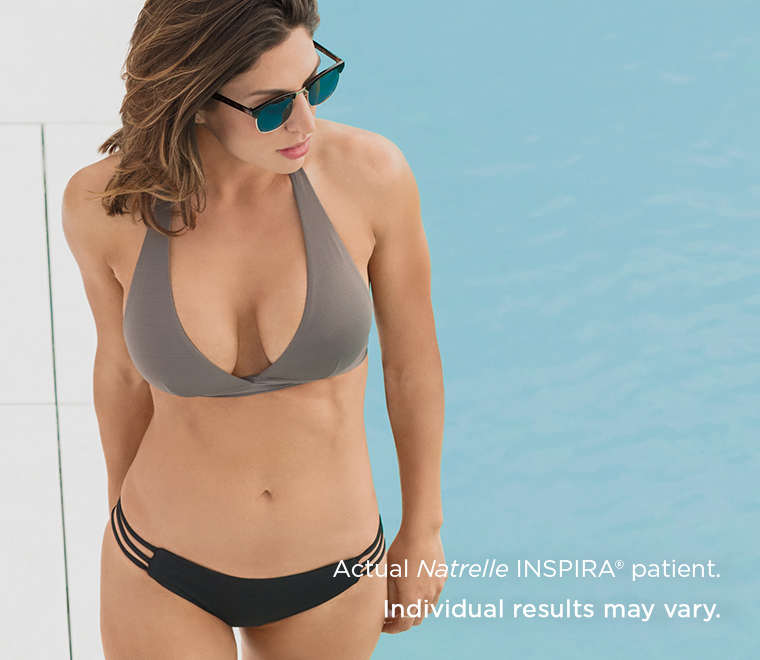 You're a woman who isn't happy with her
current
breast implants
.
There are several reasons you may need a breast revision, size is just one of them.

Maybe your breasts have changed over time, or perhaps the implants that fit you at age 22 are too small, large, or just not right anymore.
What's it really like to
live with
breast implants?
read more
What to expect
before surgery
Consultation
Many women start their surgical journey by talking to a friend or a relative who has already had a breast augmentation. While these are all good places to start, your most valuable resource is a personal consultation with a plastic surgeon.

A consultation doesn't take long, and with an expert's opinion, you'll be better able to understand the benefits, risks, and discover which implant options are best for you and your body.
Download the Natrelle® Consultation Checklist and Natrelle® Augmentation Guide to prepare for your consultation
Checklist
Guide
Which topics
should you talk about with your surgeon?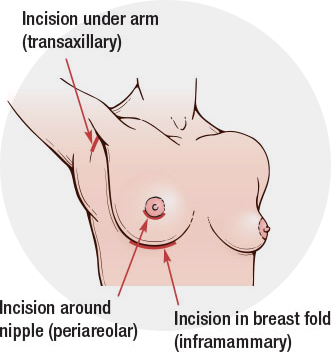 incision placement
There are 3 common incision sites in breast augmentation surgery. Talk to your surgeon about the best one for you.
implant placement
The breast implant can be placed under the pectoralis major muscle (submuscular) or on top of the muscle and under the breast gland (subglandular). Your surgeon will determine which site is best for your body type.
Submuscular placement
Surgery may be longer
Recovery may be longer
May be more painful post surgery
Reoperation may be more difficult
Implants may be less palpable
May ease imaging during mammography exam
May be preferable if you have thin or weakened breast tissue
Subglandular placement
Surgery may be shorter
Recovery may be shorter
May be less painful
May provide easier access for reoperation
More palpable implants
Greater likelihood of capsular contracture
More difficult imaging during mammography exam
cost
Breast augmentation costs can vary quite a bit based on the surgeon's experience, the type and cost of breast implants that you choose, and where you live.
Anesthesia fees
Hospital or surgical facility costs
Medical tests
Postsurgery garments
Prescriptions for medication
Surgeon's fees
Cost of the breast implants
Many plastic surgeons offer financing plans,
so be sure to ask your surgeon about this option.
What to expect
during surgery
Knowing what to expect before you go into surgery
helps to make it a much smoother experience.

The pre-op appointment
Before surgery, you will meet with your surgeon to discuss the procedure, sign consent forms, and receive prescriptions to fill after your surgery. Use this opportunity to confirm which Natrelle® implant you have chosen.

The day of surgery
Wear comfortable, loose-fitting clothes. A top that zips or with buttons in the front is ideal. Wear comfortable, slip-on shoes and cotton socks. Avoid wearing makeup, jewelry, contact lenses, and hair clips.

The procedure
Breast implant surgery usually lasts 1 to several hours depending on the incision, implant, and personal circumstances. Your surgeon will be able to give you a better estimate during your pre-op appointment.

Support after surgery
You may have to stay overnight, but if you can go home, arrange for a close friend or family member to take you home after the procedure and stay with you for a night or two. Having help around the house after surgery makes a positive difference.
What to expect
after surgery

Recovery
As every patient and procedure is different, there is no set time for recovery. Talk with your surgeon so you know what to expect.
Your breasts will be wrapped in gauze dressing, and an elastic bandage or support bra may be used to support your breasts as they heal.
Soreness, bruising, and swelling are all likely. Make sure you follow your surgeon's instructions and take any prescribed medications.
Life with
breast implants
You're healed and loving your new look. What now? Here's what
you need to know about living with breast implants.
Q
Is my surgeon familiar with GUMMY implants?
Answer
A
Many plastic surgeons are familiar with gummy (cohesive gel) breast implants. Natrelle® is a well-known and trusted implant brand, so ask for Natrelle® by name.
Question

What SHOULD I KNOW before getting breast implants?
Following breast augmentation, you should continue to check your breasts and breast implants.

With breast implants, a routine-screening mammography and self-examinations for breast cancer will be more difficult. Ask your doctor to help you distinguish the implant from your breast tissue.

Rupture of a silicone-filled breast implant is most often silent and may not be detected by you or your doctor. You should have an MRI 3 years after your surgery and then every 2 years after that for as long as you have your breast implants to determine if rupture is present. If implant rupture is noted on an MRI, you should have the implant removed, with or without replacement.
Q
WILL I be able to breastfeed with implants?
Answer
A
Every woman's experience may be different. Be sure to talk to your plastic surgeon about breastfeeding with implants.
Question

DO I need to have my implants monitored long-term?
If you have silicone-filled breast implants, the FDA recommends periodic MRI examinations in order to detect ruptures that do not cause symptoms ("silent ruptures"). For early detection of a silent rupture, you should receive MRI screenings 3 years after your augmentation and every 2 years after that.
Who doesn't love to be rewarded? Learn more about the Natrelle® Gel Rewards Program and discover Allē, the new and improved loyalty program by Allergan Aesthetics.
Rewards
Go gummy for
peace of mind
Make a confident choice with the Natrelle® ConfidencePlus® warranty program.
Warranty
Want a look that's
uniquely you?
See what going gummy looks like with before-and-after photos of real patients.
Results
Begin your breast augmentation journey by locating an experienced surgeon in your area.
Locate
Who doesn't love to be rewarded? Learn more about the Natrelle® Gel Rewards Program and discover Allē, the new and improved loyalty program by Allergan Aesthetics.
Rewards