Actual
Natrelle
INSPIRA® patient.
Individual results may vary.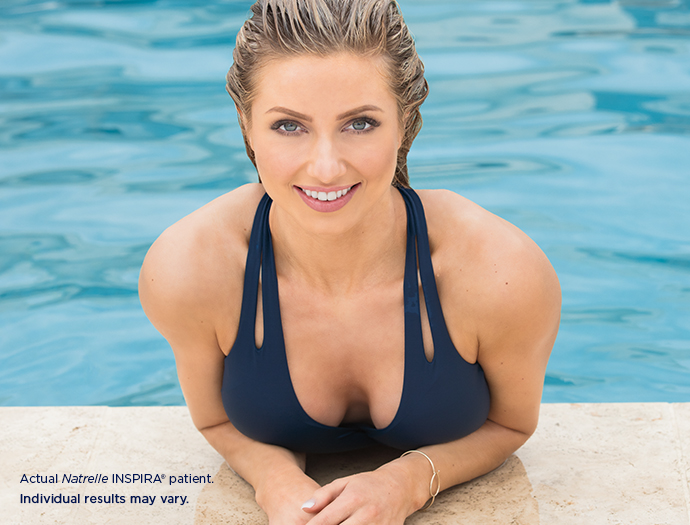 You're UNIQUE—
from your breast shape and body structure to where you are in your life.
Get the look that's right for you when it's right for you—with
Natrelle
®
.
What kind of look
would you like to ACHIEVE?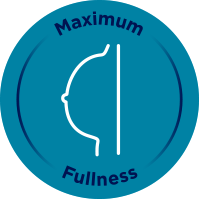 Fullest look with a very
rounded look on top
19
%
of women surveyed
preferred this look.*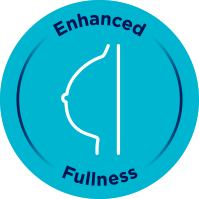 Fuller look with more
roundness on top
61
%
of women surveyed
preferred this look.*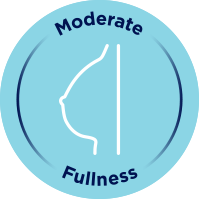 Full look with slight
roundness on top
11
%
of women surveyed
preferred this look.*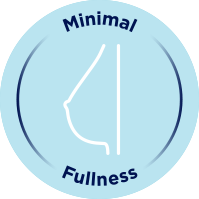 Very little fullness
on top
9
%
of women surveyed
preferred this look.*
*According to a survey of 141 prospective breast augmentation patients.
Which PROFILE is right for you?
Natrelle® offers the most smooth breast implant options in 5 profiles,
ranging from low to extra-full projection.
Profiles help your surgeon customize your look based on your body structure and aesthetic goals. Ask your surgeon which profile is best for you.

Why ask about
going GUMMY?
Natrelle® is the only smooth collection with 3 different gummy gels.
The gummier the implant, the more it holds its shape when held in your hand.†
†Significance inside the body has not been established.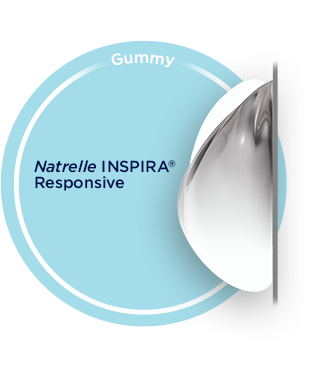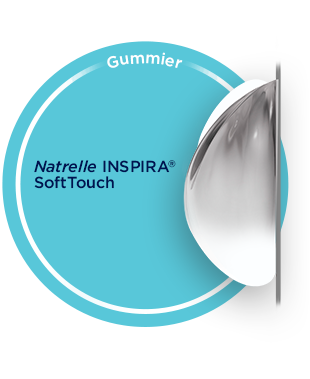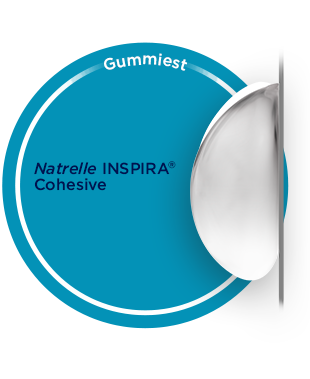 ROUND
What does GUMMY mean?
Gummy describes the consistency of the silicone gel in Natrelle INSPIRA® Breast Implants. This gummy-like gel sticks together and has the tendency to hold its shape. Each implant in our collection has a different level of cohesivity, or what surgeons may refer to as gumminess.
Did you KNOW?
Allergan, the maker of Natrelle®, has been evaluating the long-term safety and effectiveness of Natrelle® silicone-filled breast implants in patients since 1999.
Q
Is my surgeon familiar with GUMMY implants?
Answer
A
Many plastic surgeons are familiar with gummy (cohesive gel) breast implants. Natrelle® is a well-known and trusted implant brand, so ask for Natrelle® by name.
Question

Q
Are GUMMY breast implants only for women who want huge breasts?
Answer
A
No! The term full shouldn't be mistaken for large. The right implant can give you a fuller look while still fitting your body.
Question

What does GUMMY
feel like?
All Natrelle INSPIRA® Breast Implants are soft, with varying levels of gel squishiness. When you go gummy, you don't have to sacrifice implant softness. The best way to determine softness is to feel each implant during your consultation.
What LOOK can Natrelle® implants give you?
Your surgeon can help you choose the best option based on your needs, wants, unique body structure, and more. Natrelle INSPIRA® Breast Implants are designed for a full look—especially at the top. Keep in mind that choosing the right implant for you is more than just deciding on size.
SHOULD you request a certain bra size?
Believe it or not—no!
Surgeons talk size and projection when it comes to selecting implants. Breast implant size is actually measured in cubic centimeters (cc), not by bra cup size. The larger the implant, the higher the number of cc.

Projection refers to the side profile or the distance that the implant projects from your body.

The amount of volume (cc) and the degree of projection you and your surgeon select will depend on your body type and the shape and fullness you want.
see results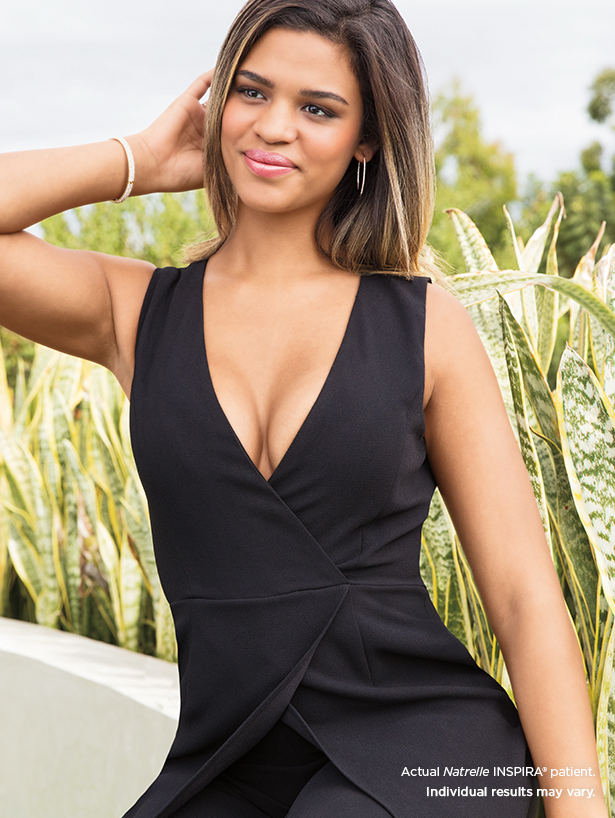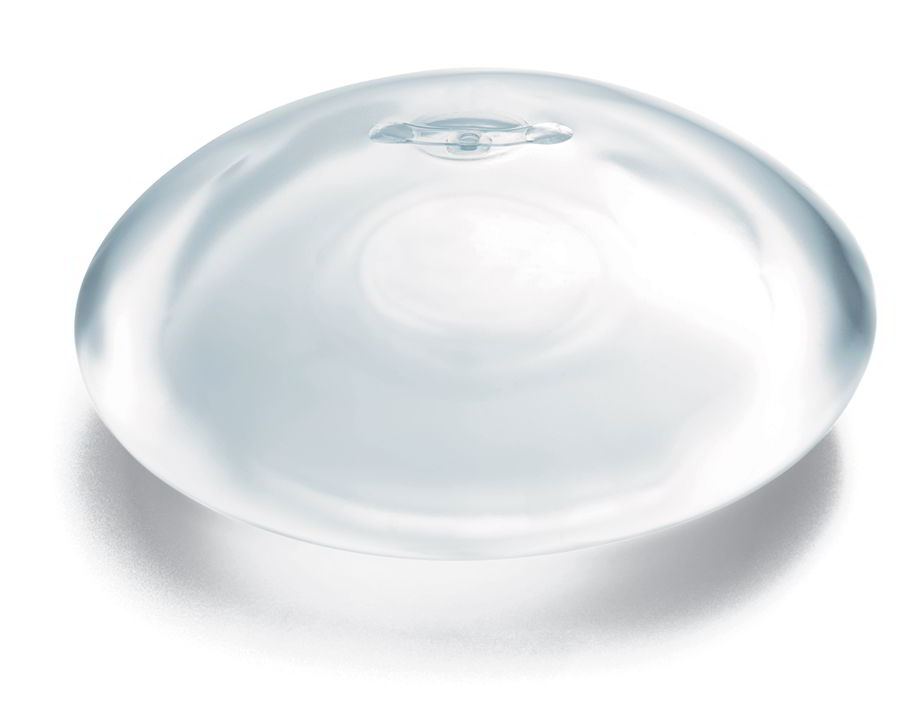 Curious if saline breast implants are FOR YOU?
Natrelle® Saline-Filled Breast Implants offer you fullness that ranges from low to moderate to high.

They are available in a wide variety of round sizes and profiles to meet different needs and expectations.

Ask your plastic surgeon for more information.
Learn about the
Natrelle
®
ConfidencePlus
® warranty
for saline
breast implants
warranty
Who doesn't love to be rewarded? Learn more about the Natrelle Perks℠ and discover Allē, the new and improved loyalty program by Allergan Aesthetics.
Rewards
Go gummy for
peace of mind
Make a confident choice with the Natrelle® ConfidencePlus® warranty program.
Warranty
Want a look that's
uniquely you?
See what going gummy looks like with before-and-after photos of real patients.
Results