Mina
"
When I look at myself now,
Actual breast cancer and breast reconstruction patient with
Natrelle
INSPIRA® Breast Implants.
Individual results may vary.
Selecting a
Natrelle
®
breast implant
SMOOTH implants
Natrelle INSPIRA® Smooth Round Gel Breast Implants were designed to have a full round look and a soft feel when held in your hands.
Implants are filled with either silicone gel or saline
Silicone gel
Silicone breast implants are prefilled with silicone gel, a thick fluid that makes the actual breast implant feel softer than saline implants.
SAline
Saline breast implants are inserted empty, then filled with a sterile saltwater solution.
Natrelle® Cohesive Collection
No two women are alike, which is why Natrelle® offers implants with various cohesivities (aka gumminess), sizes, projections, and fill. Your surgeon will help you select the right implant for your breast-shaping needs.
Natrelle® is the only smooth implant collection with 3 different gummy gels for the look and feel you desire.
The gummier the implant, the more it keeps its
fullness on top
when held upright in your hand*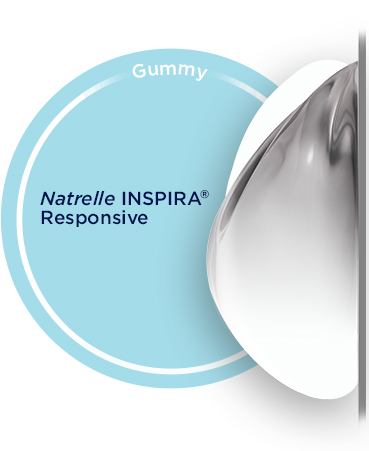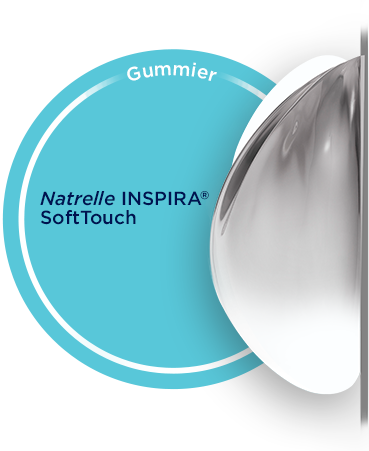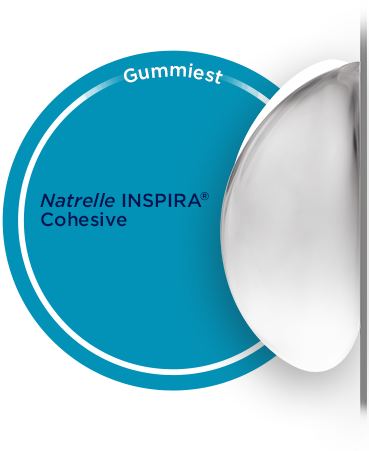 *Significance inside the body has not been established.
What does gummy mean?
Gummy describes the consistency of the silicone gel in Natrelle INSPIRA® Breast Implants. This gummy-like gel sticks together and has the tendency to hold its shape. Each implant in our collection has a different level of cohesivity, or what surgeons may refer to as gumminess.
What does gummy feel like?
All
Natrelle
INSPIRA
®
Breast Implants are soft with varying levels of gel squishiness. The best way to determine softness is to feel each implant during your plastic surgery consultation.
Which implants are right for you?
Your surgeon can help you choose the best option based on your needs, wants, unique body structure, and more.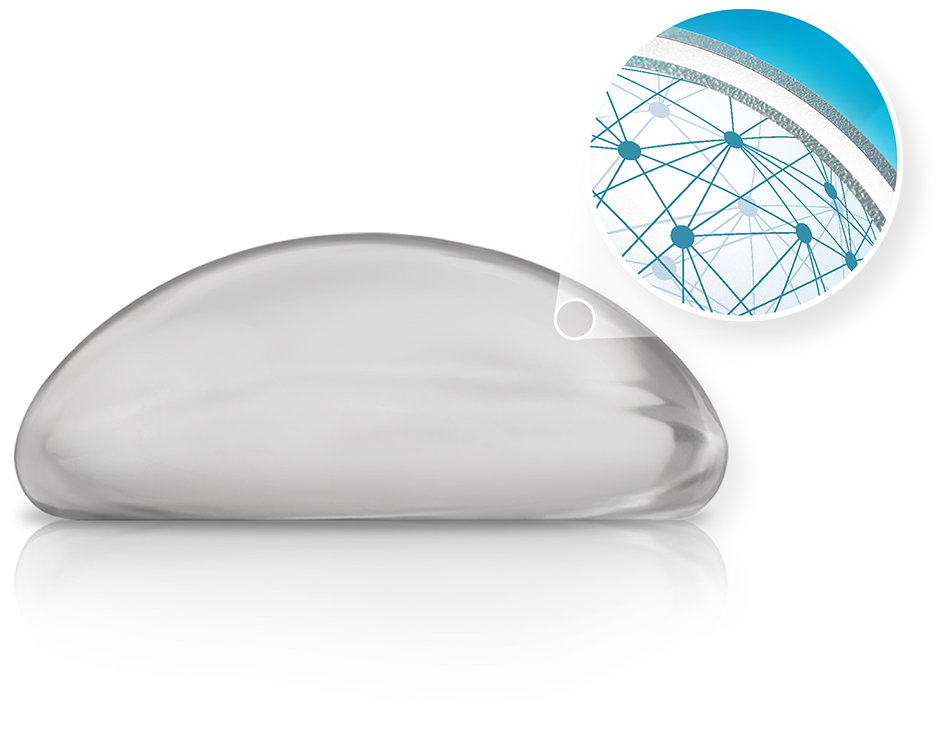 A shell designed
TO PROTECT
The gel in
Natrelle
® gummy implants is surrounded by a
state-of-the-art
breast implant shell that keeps the gel inside.
†
†Significance inside the body has not been established.
When Natrelle INSPIRA® Cohesive is cut outside the body, the gel stays in place.†
†Significance inside the body has not been established.